Professional Auto Attendant Recording Services
Deliver the best support to your clients, without the overhead of a human operator.
The Best-In-Class Digital Receptionist:
Amazing Voice's auto attendant service

Whether you want to automatically route incoming calls to extensions, voicemails, or cell phones, provide guidance to your callers when no operators are available, offer information, or simply deliver a greeting, you'll benefit from a professional auto attendant recording.

Got your script ready? Let's go!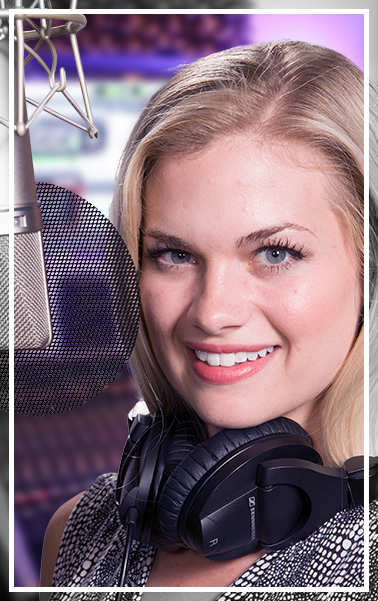 We make good auto-attendants better
At Amazing Voice, we take care of your automated voice messages from start to finish. We can help you decide on the best format, create a script, choose a voice talent to bring it to life, and finally record it in a state-of-the-art studio. Together we'll make sure that the first impression your customer gets is professional, reliable, and attuned to their needs.

With almost 2 decades of experience behind us, we're ready to handle any type of auto attendant you might need. Not only that, but our knowledge of this industry will make your recording the best it can possibly be.

Improve customer satisfaction

Record your auto attendant messages with Amazing Voice and enjoy a seamless recording process and an outstanding result that will help your brand be remembered. With us, you'll discover the exceptional benefits of auto attendants:

More satisfied callers
Deliver a seamless experience
Make transfers more efficient
Reduce live call handling
Types of auto attendants
With the right recording partner by your side, you can make the most out of your automated voice messages. Want to record an auto attendant greeting or are you looking for more generic automated voice messages? No worries, we're here to help you with a diverse range of auto attendant services.

Integrated voice response (IVR): Answer your callers when there's no human operator available
Recorded greeting system: Say "Hi!" and send across important information with no overhead
Simple menu system: Create a multiple-choice menu to help your callers navigate through your support options

We help you choose and create the best auto attendant that's right for you
You can choose from a wide range of possible auto attendant formats, or you can decide on the best option with the help of our experts. At Amazing Voice, we thrive to understand your business and generate the professional auto attendant recording that can drive the best results. So, whether you've made up your mind regarding what you need or you want to explore more options, don't hesitate to reach out to us.

You need an amazing auto attendant script
Make sure your auto attendant greeting and automated voice messages hit their goal by crafting the most compelling script. Having recorded thousands of professional auto attendant recordings, we can help you to fine-tune your message so that your callers get it, every time.

What to expect from Amazing Voice
We'll guide you on your journey to create a professional auto attendant from start to finish. With us you'll get:

Professional voice over talents
Diverse range of voice tonalities and accents
Auto attendant strategy consulting
Script examples
State-of-the-art studio recordings