Our Standard Turnaround Time
Our usual turnaround for small to medium sized orders is within 4 business days. The delivery date may vary according to the voice talent availability and will be indicated on the order/quote page once you have selected a voice.
Rush Delivery Options
We understand that you may need your voice over production sooner than the standard 4 days. That is why we offer our clients 3 additional delivery options (Express, Expedited & Rush) for faster delivery of your order. You may select any of the 4 delivery options when placing your order. The details and prices will be indicated on the order/quote page.
Example Delivery Options: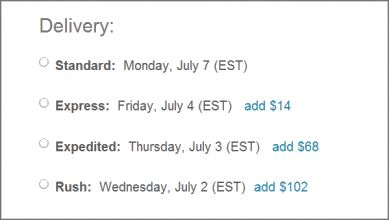 Method of Delivery
A one-click download. It's that easy!
You will be sent an email where you can download your completed order from our secure web directory. You have access to your audio files by simply clicking on the link provided. No FTP or special login required.
Order online in a few easy steps
Choose a voice, add your message, pay & you're done!