The Importance of Using Voice Overs in the eLearning Industry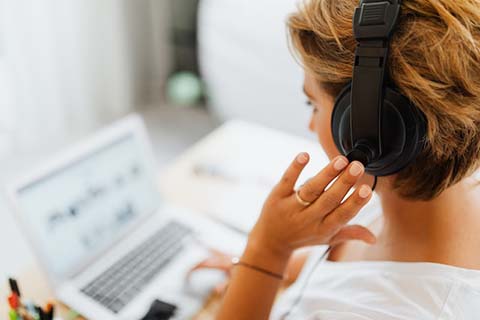 The times are changing, and while, historically, most students spent their time sitting in a classroom, this is no longer the case.
In fact, according to a 2018 census, over 35% of students in the US were participating in eLearning, and this was before the pandemic.
But students can't learn sufficiently by just reading a presentation or course which is available online.
To have a successful eLearning program, adding some form of voice overs to your materials is essential. Different types of eLearning voice overs help increase engagement, learning, and the retention of the information presented to the students.
Read on to learn more about why you should add voice over recordings to your eLearning program, and information about how to design your eLearning script.
Plus learn about translation services to help your course to reach a wider audience.
Why Are Using Voice Overs Important in eLearning Environments?
eLearning has existed for a long time, as it was originally invented back in 1968.
For many years, however, students were hesitant to enroll in eLearning courses because they didn't learn as much as they did in a regular classroom.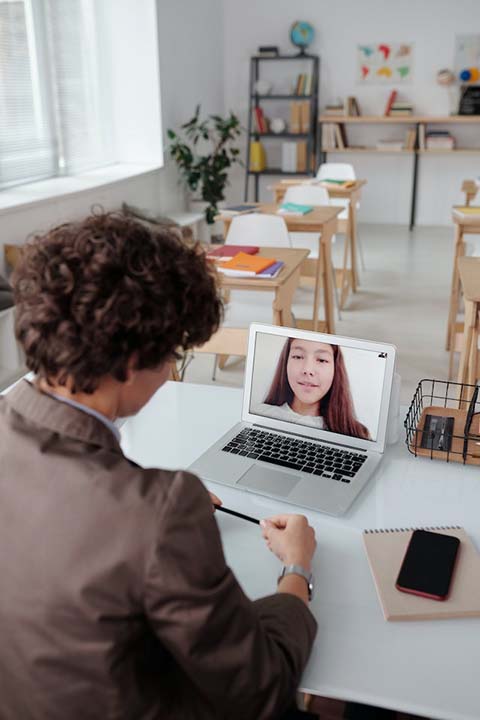 They aren't wrong, as according to numerous studies people don't retain information very well when they only read it or see it on a screen.
Their memory of the information presented will increase, though, when it is also presented in another medium, such as something they hear, or something they write in addition to reading.
This means that if your eLearning course only has slides for the student to read, it will likely be ineffective in teaching the student the desired information.
Adding an eLearning voice over to your material adds that second layer, allowing the student to hear the information as they are reading it, therefore increasing their overall retention.
Not only that, but in Canada alone, 48% of people are considered to have inadequate literacy skills.
So, if you are presenting information to the general public without a voice over recording, it is probable that you may leave almost half of your audience in the dark.
Additionally, as a teacher you likely teach the same information over and over.
This can get tiring, especially if you are always the voice behind the information.
It is also possible that you forget things from presentation to presentation, as you go through your day.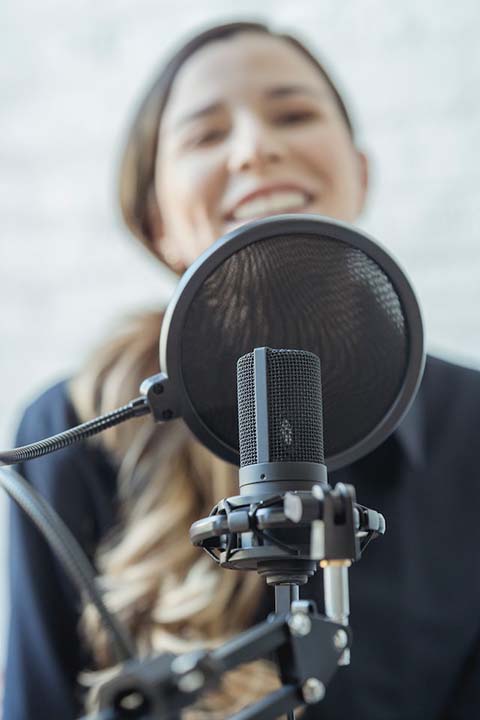 Using a professional voice over can allow you to present the information exactly as intended each and every time.
There are no mistakes, and your voice gets to rest when it is truly needed to answer questions after the material has been presented.
Looking for an example of how eLearning voice overs could fit into your classroom?
Amazing Voice is here to help, check out their eLearning voice overs page to get a better idea what these voice overs are like and the options which are available.
Benefits of Using Voice Overs in eLearning
Besides just increasing students' retention and engagement with your material, there are many additional benefits to using voice over recordings in eLearning environments.
1. Students Are More Likely to Enjoy the Subject
Simply reading about a subject is often considered to be quite boring by students and teachers alike.
Adding voiceovers to eLearning material can take it to the next level, helping students to enjoy the topic more and enjoy the course.
If a student is happy with their results in an eLearning course, they are more likely to recommend the results to others, making voice overs a good business decision for eLearning companies.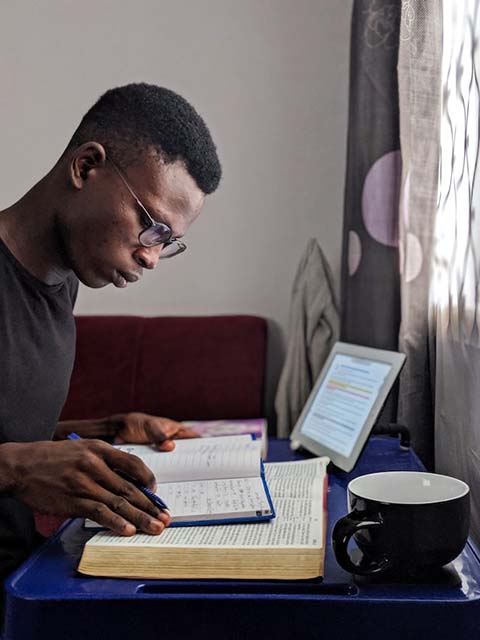 2. Reading is the Least Popular Form of Learning
Only about half of students enjoy reading their course material, and it is easy to see why when you consider the low literacy rates worldwide.
Adding voice overs to eLearning material makes your content both audible and readable, making it more attractive to a wider variety of students.
It is very unlikely that students will register for a class that is just reading a presentation, because many of them at that point would rather read a book on the subject than take a class.
3. Coursework Can Reach More Students
If the information you have written is only available in one language, like English, then you are restricted to only accepting students who speak English.
eLearning voice overs are an easy way to expand your coursework to suit multiple languages.
You can keep the same images and charts and add a voice over recording in another language over the existing content.
This is a cost-effective way to expand your audience without having to change the course work yourself or hire an additional teacher.
Amazing Voice offers voice overs in many languages, making it easy to get an eLearning voice over in the exact language and dialect you need.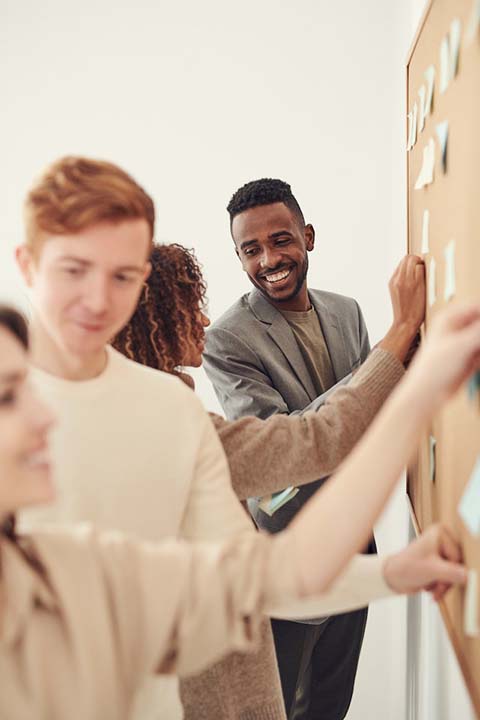 4. Less Taxing on the Teacher
Being a teacher is a tough job, especially when you have to teach multiple versions of the same class each day.
Adding voice over recordings to your content makes it easy to teach repetitions of the same information and allows you to get other things done while your students learn.
Voice overs also allow you to pick someone with your ideal tone to present your information, taking the stress off the teacher of always having to use a certain tone to teach content.
What Types of eLearning Voice Over Are Available?
There are several different types of voice overs which can benefit your eLearning curriculum.
Many companies choose to use multiple types of eLearning voice overs, but your material may only require one.
1. Narration
Narration is the most common type of voice over used in eLearning.
Narration voice overs typically include the same information available on the screen, though they may add extra information on slides which contain pictures or charts.
These types of voice overs are typically paused when there is an on-screen video or other demonstration embedded in the presentation.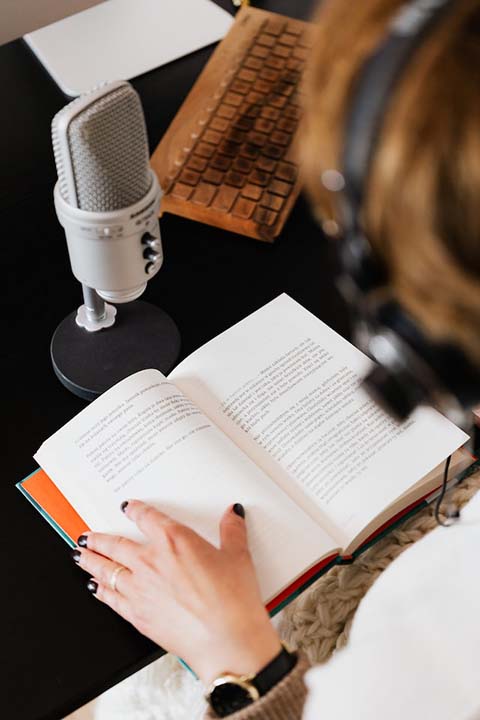 2. UN Style Voice Over
The UN Style voice over is used in education the least and is typically only applied to part of the material presented.
UN Style voice overs are often played on top of another existing narration when the existing narration is in another language.
Many teachers choose to use a UN Style voice over when they already have a narration in place but need a short video or clip to be translated, while allowing students to still hear the original language.
These types of voice overs are used frequently in high level language eLearning courses.
3. Dubbing
Dubbing is a type of eLearning voice over which is used when the information presented is in a different language.
Those who would like to dub their eLearning material typically already have a voice over, but they want one in a different language to reach a wider audience.
Dubbing voice overs may read the content on the screen but in a different language or may be a translation of a narration voice over.
Dubbing voice overs often go far beyond narration and may be played on top of the embedded video audio to allow the students to understand the demonstration.
It is important to note that unlike UN Style dubbing, the original voice over is not played beneath the dub, the students only hear the one language.
No matter what style of voice over you think you need for your eLearning coursework, Amazing Voice can do it all, check out the samples of their eLearning voice overs to get started.
How to Use Voice Overs in eLearning
Beyond just choosing what type of voice over recording to use with your curriculum, it's also important to review how you can use voice overs in your coursework which will benefit students.
1. Choose the Right Voice
Tone of voice has a huge impact on student learning.
According to a study performed in the UK, teachers using the wrong tone of voice are likely to be ignored by students, or the students may think the teacher doesn't know the content well.
Therefore, it is important to find a voice over actor that has a strong and authoritative voice, but one which won't scare or anger students either.
Take the time to listen to samples of a few different voices, like those available on Amazing Voice's eLearning page to find the one that is a good fit for your subject matter.
No matter which voice you decide to use, you need to consider adding additional elements to your eLearning voice over, like music, to help keep children interested.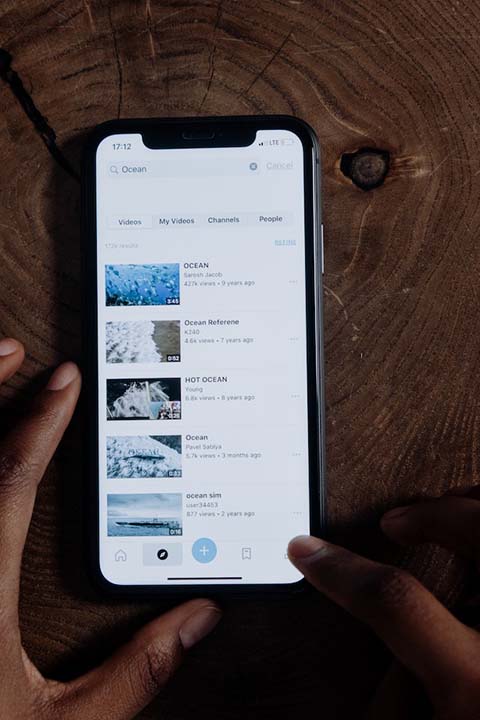 2. Add Music
Music in between slides, or as a prelude to a topic, can help keep children engaged, as listening to a voice lecture for hours will get boring, no matter how great of a tone your voice over has.
Just keep in mind that the music you use should not have lyrics, or be distracting, keep it brief and use it to add to your content, not detract from it.
3. Don't Just Read
It may seem easy to order a voice over which is just a reading of your presentation.
Unfortunately, this can be even more boring for students.
Instead, you should have a voice over which summarizes the content on the screen, as well as adds more information that isn't available on-screen, such as anecdotes, or funny mnemonic devices which can help students retain information.
4. Add Other Media
If you have developed a presentation you would like to add a voice over recording to, before you start developing your script, ensure to add engaging aspects to your content.
These aspects can include mini quizzes, videos, or photos.
You want to add these before you develop your voice over to ensure you include space for them in the script.
Developing a Voice Over eLearning Script
Once you have decided to add a voice over recording, developing an eLearning script isn't too difficult at all.
When you work with Amazing Voice, you can simply send your presentation over to get started.
If you would like to add some anecdotes or other information, however, it is important to write out these elements for the voice actor to read.
After you have written them out, read them to yourself a few times to ensure the words flow and sound as if they are in the right order.
Check to ensure everything you want said is spelled correctly so there is no confusion.
You will also want to add spots where you would like the voice over to pause, you can do this using punctuation, like a comma or period.
Don't forget to add information that you would normally say to the students, such as to turn to a certain page of their book to find the associated information, or websites where they can go for more information on a topic.
Take the time to specify what you want said on a video or image slide where there may not be words to be read.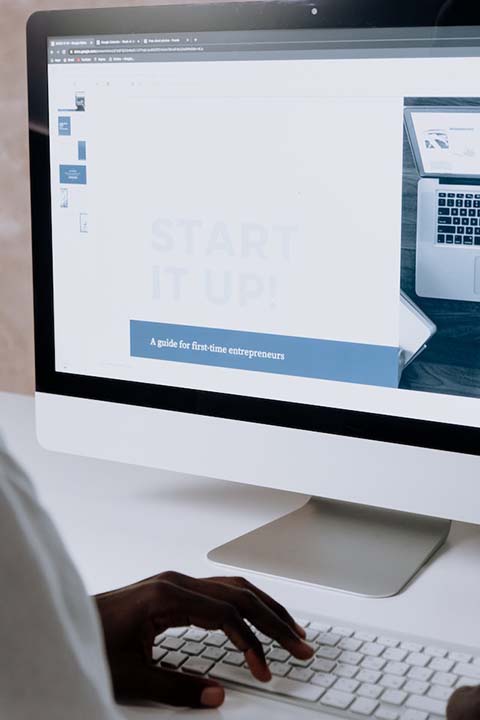 Once your eLearning script has all this information, you are ready to order your voice over!
If you are ordering a voice over in a different language for your eLearning content, it is a good idea to do some research into the market you want to expand into, so you can get the right dialect of your desired language.
Ready to Add Voice Overs to Your E-Learning?
Have you decided that adding a voice over to your eLearning course would benefit your students?
Whether you have an eLearning course, training video, or presentation which needs a voice over, you have made the right choice!
The next step is to look at Amazing Voice's eLearning voice over samples, then head over to their page to get a quote.
Your perfect voice over is right around the corner!
---
Related Posts